Why Using RFID?
If your company ships items that are too heavy, bulky, or in large quantities to ship through normal channels like UPS or FedEx Freight, then you understand the typical problems associated with shipping on pallets, trays, bins, or racks. When companies purchase these items, they have to decide if they want to purchase reusable, plastic or metal shipping assets, or purchase disposable wood or cardboard items. Using wooden pallets is the most common way to ship large quantities, but with the wave of environmental concern, especially reducing waste, reusable plastic pallets are becoming more appealing. Because plastic pallets cost more, it's important for companies to view these as reusable assets instead of simply a means to an end. Here are 3 reasons that you should be using RFID to track these returnable assets.
#1 Save Money While You Make Money
While your business is booming, and more and more orders come in, the last thing that you want to be worried about is purchasing more shipping assets. If a customer doesn't return a reusable asset, you might as well deduct the cost of a new pallet from this month's bottom line profit. Instead of calculating the loss, you could contact that customer and ask them to return it.
#2 Create (and Enjoy) a Chain of Evidence
What happens when you know which customer didn't return a shipping asset, but they plead not guilty? With a chain of evidence provided by hard data, you can provide proof and ask for it to be returned or bill them for the lost asset. The read data for each pallet can be stored in a database, so it's even possible to know where that pallet was on this day, 2 years ago.
#3 Make Informative Decisions
Over time, all the reads can add up to a lot of interesting data. This data can help you make decisions like when to add more reusable pallets to the supply chain or how to allocate these assets so you can be prepared for the shipment of a large order. You can also get information like which customer takes the longest to return pallets, how many a customer has at one time, and when to reach out to a customer about a late return.
By tracking reusable shipping assets, you save money, create a chain evidence, and use new data to make informative decisions for your company.
How a RFID System Looks Like?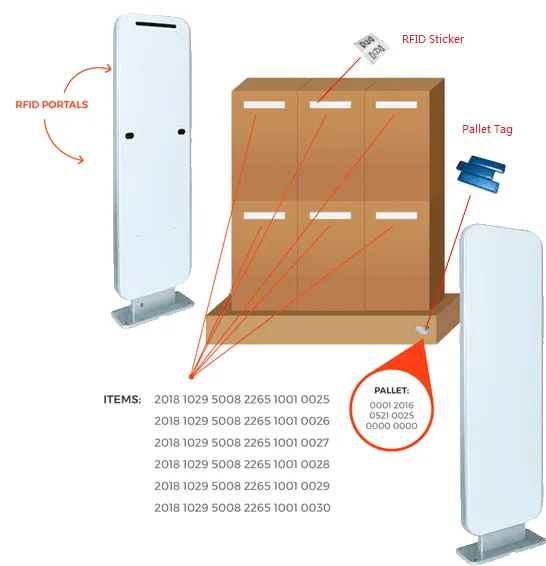 Above is an example of a pallet going through a dock door RFID setup with six individual boxes on board, each associated with the pallet's EPC number.